Numerous studies over the years have shown that there are many significant health benefits to a plant based diet. All plants contain various phytonutrients, or plant based chemicals, which convey many protective health benefits to those consuming them.
There are more than 25,000 phytonutrients found in plant foods… and counting! Naturally in plants, these chemicals provide protection from germs, fungi, bugs, and other threats. When we consume these foods, these protective nutrients work to protect our cells too! Fruits and vegetables typically contain high levels of phytonutrients. Other plant-based foods that also contain phytonutrients are: whole grains, nuts, beans, and tea.
While not essential to any one body function, phytonutrients are very beneficial for optimal immune function, cancer prevention, and many more worthwhile benefits.
The following chart shows various phytonutrients, their proposed health promotion properties and the plant sources where they can be found. Even if not solely choosing a plant-based vegetarian lifestyle, it is always a wise choice to include more plants in your daily intake.
| Active Food Component: | Possible Disease-Fighting Properties: | Found in the Following Foods: |
| --- | --- | --- |
| Allylic Sulfides | Inhibits cholesterol synthesis and protects against carcinogens | Aged garlic extract |
| Alpha-linolenic Acid | Reduces inflammation and stimulates the immune system | Flax seeds, soy products, purslane and walnuts |
| Carotenoids | Antioxidants which protect against cancer and may help reduce accumulation of arterial plaque | Parsley, carrots, sweet potatoes, yams, kale, cantaloupe, apricots, spinach, turnip greens, winter squash and citrus fruits |
| Catechins | Studies have linked catechins to low rates of gastrointestinal cancer; May aid immune system and lower cholesterol | Green tea and berries |
| Coumarins | Prevents blood clotting and may have anti-cancer activity | Parsely, carrots and citrus fruits |
| Flavonoids | Block receptor sites for certain hormones involved in cancer promotion | Parsely, carrots, citrus fruits, broccoli, cabbage, cucumbers, squash, yams, tomatoes, eggplant, peppers, soy products and berries |
| Gamma-glutamyl Allylic cysteines | May have role in lowering blood pressure and increasing immune system activity | Aged garlic extract |
| Indoles | Induce protective enzymes that deactivates estrogen | Cabbage, brussel sprouts and kale |
| Isothiniocyanates | powerful inducers of protective enzymes | Mustard, horseradish and radishes |
| Limonoids | Powerful inducers of protective enzymes | Citrus fruits |
| Lycopene | Powerful antioxidant that helps the body resist cancer and its progression | Tomatoes and red grapefruit |
| Monoterpenes | Cancer fighting antioxidants that inhibit cholesterol production and aid protective enzyme activity | Parsley, carrots, broccoli, cabbage, tomatoes, eggplant, peppers, cucumbers, squash, yams, mint, basil and citrus fruits |
| Phenolic Acids | May help the body resist cancer by inhibiting nitrosamine formation and affecting enzyme activity | Parsley, carrots, broccoli, cabbage, tomatoes, eggplant, peppers, citrus fruits, whole grains and berries |
| Phthalides | Stimulates the production of beneficial enzymes that detoxify carcinogens | Parsley, carrots and celery |
| Plant Sterols | Block estrogen promotion of breast cancer activity; Help block the absorption of cholesterol | Broccoli, cabbage, yams, squash, tomatoes, eggplant, peppers, soy products, cucumbers and whole grains |
| Triterpenoids | Prevents dental decay and acts as an anti-ulcer agent; Binds estrogen and inhibits cancer by suppressing unwanted enzyme activity | Citrus fruits, soy products and licorice-root extract |
When it comes to working more veggies into your diet, what's easier than making a dinner bowl! All veggies work in this recipe so feel free to replace those suggested for others you have on hand or enjoy more!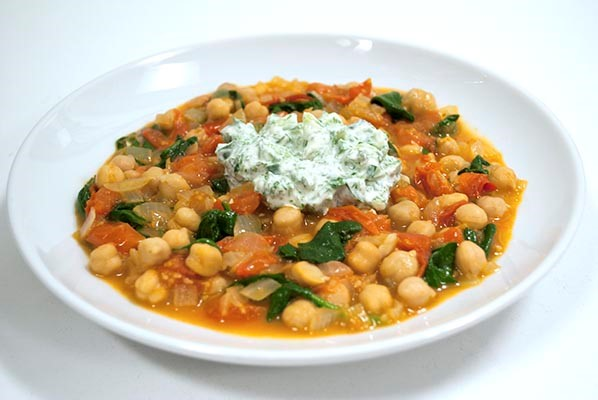 Mideast Chickpea bowl
From Nutrition Action's From the Heart Cookbook
Time 25 minutes
 1c grated cucumber
1/2c 2% Greek yogurt
1/4c mint and/or cilantro, minced
1/4c flat-leaf parsley and/or dill, minced
1/4t + 1/4t kosher salt *
1 large onion, diced
2T extra-virgin olive oil
1/4t ground cumin
1/4t ground coriander
Pinch of red pepper flakes
2c chopped fresh of (1) 15oz can no salt-added diced tomatoes
cloves garlic, minced4oz baby spinach
(1) 15oz can no salt-added chickpeas
Make the cucumber-yogurt sauce: In a small bowl, combine the cucumber, yogurt, and herbs. Season with ¼ tsp. of the salt. Set aside.
In a large pan, sauté the onion in the oil until lightly browned, 5-7 minutes.
Stir in the cumin, coriander, pepper flakes, remaining ¼ tsp. of salt, tomatoes, and garlic. Cook for 1 minute.
Add the chickpeas with their liquid, stir in the spinach, and heat through.
Divide into 4 bowls and top evenly with the cucumber-yogurt sauce.
Serves 4 (Serving Size 1.5 cups)
Calories: 230
Fiber: 7 g
Sodium: 305 mg  *Salt substitute can replace the salt to reduce the sodium content further and boost the heart health value of the recipe!!
Protein: 10.5 g
Carbs: 30 g
Total fat:   8.5g
Sat fat: 1.5 g 
Any questions on choosing a vegetarian life-style and/or questions on including more health-boosting plants in your overall diet, contact us today. ANW's registered dietitians can help you navigate through all of your plant-based options for optimal health!